Examining the move from 'working from home', to 'back to the office'.
The transition from the comfortable 'working from home' routine, to the commute-frenzy 'back to the office' can be a tricky and challenging change for some employees.
As we emerge from more than two years of online and virtual working, which became a normal work routine for many businesses, employers have now realised they may need to make special amends to ease evolving workplace demands.
The impact of covid had a staggering influence on the nation's working practices and health habits, with the media exposing that many adults reported undesirable changes to weight, increased drinking, social anxiety and the inability to cope with prolonged workplace stress.
Whether the pandemic has finally become an 'endemic,' or not, it has been established that the only way to nurture a productive and healthy hybrid workplace is by accommodating the needs of each employee by anticipating and adapting the transition.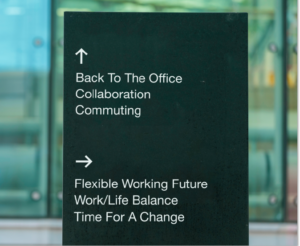 Mental Health: The Top Priority
Covid resulted in more than just physical harm; it severely affected the overall wellbeing of every human being, and fundamentally changed how we lived and worked.
With this in mind, employers have started working through this challenge to reassess their priorities, and implement the most effective approach to actively evaluate and support their staff's mental and physical health through improved welfare strategies and policies.
The constant anxiety of unannounced lockdowns and fear of social isolation have led to more than a third of young people saying their mental health has become worse since 2020.
Perhaps it's time for organisations to take a cue from insurance giants Aviva who introduced 'winter wellbeing leave,' allowing all its 16,000 UK employees to take an extra day off, or Hermes for appointing 72 mental health ambassadors to support their struggling staff during the pandemic and in post recovery.
Business leaders and policy makers may need to adapt to the changing situation and make necessary adjustments to their business models, to ensure the rebound is manageable and help reshape the future of work.
Hybrid Working in the Future
One positive outcome of covid, for many, was the introduction of a remote working environment. This opinion is backed by over  57% of remote workers who felt to be more productive when they are in the comfort of their home.
Remote work has allowed professionals to juggle their personal life with their work. However, with offices reopening around the world, businesses are introducing ways to help their team work together in a hybrid work environment and safely and comfortably return back to their offices.
Hybrid work model is a blend of in-office and remote work, usually from home. This is a flexible way of combining working from home and working onsite, and supports the best working conditions for employees as they adjust to the "new setting" in the current climate, and for the foreseeable future.
Even with the government introducing the "Living with Covid" strategy, where their guidance to work from home officially ended, the final decision firmly remains with the individual companies to continue following the more relaxed and modern way of working.
Also, there are more than 13 million working parents in the United Kingdom and remote working has allowed them to balance their time between work and being with their children. Organisations need to keep this in mind while implementing new guidelines.
By aligning business objectives with an evolving workforce, organisations should hope to:
Use updated values and ethics to develop new ways of working, which will increase levels of engagement and productivity.
Create a stronger team experience by investing time and money on the things that matter most, both inside and outside the business framework.
Start at the top – with a leadership team committed to adopting a return to the office and yet supporting flexibility and choice, the approach fosters staff buy-in and team spirit.
Lead from the front and showcase your company as a leader in workplace flexibility, encouraging new talent and stakeholders to the business, and cementing existing staff relationships.
Hybrid working may present the perfect balancing act for bringing workers back to boardroom discussions, while allowing them to spend quality time with family and friends – creating a more flexible, sustainable businesses that puts people first.
For additional tips and information on how to navigate your workplace in the post-Covid era, seek an independent HR advisor for guidance