Examining effective workplace communication.
Covid-19 has brought several changes to how an organisation functions, impacting working experiences. Policies such as remote working and unlimited leave may seem exciting to many, but there are other internal guidelines which influence a positive organisational culture and shouldn't be overlooked.
Effective workplace communication is so important to ensure employees have the information they need to exchange ideas and information, boost their morale and confidence, while ultimately increasing their productivity.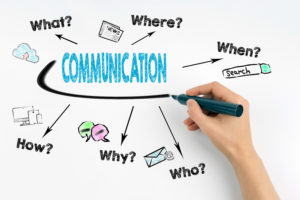 What does communication mean in a work environment?
In a nutshell, good communication is the means by which employees feel safe and comfortable sharing their ideas or presenting new information in a work environment, without the fear of being judged or criticised. This includes face-to-face conversations, emails, digital messages, phone calls, and other methods used to share information.
But does communication really matter?
Miscommunication has real consequences for a business. CIPD revealed that employee communication is a critical part of a healthy relationship among employees. This report has led to an increased awareness in wellbeing protocols for employees, while inspiring significant growth in their performance.
Communication is the number one area cited as needing improvement in exit interviews we at TrueHR have undertaken and has always been a crucial piece of the jigsaw in helping an organisation function smoothly, eliminate inefficiencies and build a positive work environment.
Importance of communication in a post-pandemic work-environment
The post-pandemic work environment needs to be adjusted, as a recent study suggests that virtual teams are more likely to encounter workplace challenges, compared to those continuing traditional work routines. Leaders should ensure that all employees feel connected and have a consistent experience – regardless of where they sit.
The pandemic may have forced organisations to shift towards a remote-working environment, and yet in some cases, this has also meant a shift in communication culture. During this time, businesses faced new internal communications challenges of how to keep a fully remote workforce engaged and motivated during extended hybrid working.
While transitioning from a remote working environment to a more flexible working style, business leaders need to ensure authentic tools are in place for co-workers who may have trouble communicating their thoughts, especially as they return to the office after two long years of absence.
How do you improve it?
Maintaining a productive communications strategy is particularly important for businesses of all sizes. Microsoft-driven research revealed that the biggest cause of stress among UK businesses is the inability to communicate effectively.
Companies don't need to take drastic measures, or adopt sophisticated tools, to engage with their teams. Workplace communication starts with the individual but it doesn't stop there. Creating a trusting environment is key to a good workplace culture and people should feel comfortable voicing concerns, asking questions, and contributing their ideas.
Here are some ways you can improve workplace communication:
Create an open culture by building a trusting environment which involves all, and be aware that communication styles can differ from people to people.
Listening to all parties; if it's an intern needing extra support for their duties or a senior executive with an issue, their suggestions and opinions must be considered and valued.
Undertaking regular training sessions where all team members understand their job roles or duties and leave no room for any confusion.
Effectively communicating the company's goals and objectives to its employees helps them stay focused and increases their productivity.
Organising regular team-building exercises is one of the best ways to improve communication among employees.
Good, clear communication is more important than ever in the post-covid era, where the Great Resignation is grabbing headlines around the globe. If project goals and objectives are clearly communicated through a strategy that motivates employees to engage with the organisation more openly, you're closer than you think to achieving your goals.
For additional tips and information on how to improve workplace communication in the post-Covid era, seek an independent HR advisor for guidance.