Should businesses beware of TikTok data privacy concerns in the workplace?  Maintaining a safe and secure workplace environment is crucial for legal reasons as well as HR reasons when running a business. Over the last few months, we've seen increasing warnings over data security surrounding apps, none more so than the fears over TikTok's data harvesting.
Following the BBC urging its staff to delete TikTok from corporate devices, what should your business be doing about TikTok?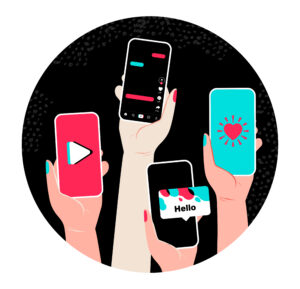 The risks of TikTok
TikTok, the popular social media app owned by Chinese company ByteDance, has been under scrutiny for data usage since it was first popularised. When it first went viral, concerns were raised about the algorithmic distribution of harmful content on the platform, with the Center for Countering Digital Hate finding that TikTok exposed young users to self-harm and eating disorder content. Additionally, the app has been identified as a source of misinformation, with a significant number of posts containing false or misleading information.
A more significant concern for businesses and governments is TikTok's Chinese ownership. The US government has banned the app on government devices in multiple states, citing spying allegations and national security risks. Currently there is no law in the UK, but the UK parliament has closed its TikTok over data privacy concerns. Central fears are that user data may be accessed by the Chinese government, given the app's data harvesting practices and storage on servers in mainland China. While TikTok denies sharing data with the Chinese government, the issue has raised continual concerns about privacy and data protection.
Should your business follow suit?
As businesses become increasingly aware of the potential risks associated with TikTok and similar platforms, the BBC's decision to restrict its usage on corporate devices is a timely reminder of the importance of data security. Considering the risks associated with TikTok, it is worth evaluating whether your business should adopt a similar approach.
The decision ultimately depends on each company's priorities and risk tolerance. However, prioritising data security and minimising potential vulnerabilities should be a key consideration for all businesses. A powerful way to protect your business is by implementing robust policies regarding the use of social media platforms on corporate devices, which may involve restricting or banning the use of TikTok unless it is necessary for specific business purposes. By taking a proactive approach, you can mitigate potential risks and uphold your commitment to data security as a priority.
Want support on your social media policy?
TrueHR offers valuable expertise in developing and implementing policies to safeguard businesses from potential risks, ensuring a secure and compliant workplace environment. With our expertise in navigating the complexities of HR management, we can assist businesses in developing and implementing policies that address the use of social media platforms like TikTok.
To learn more about how we can assist your business in navigating HR challenges and ensuring data security, get in touch now to learn more about how we can help.