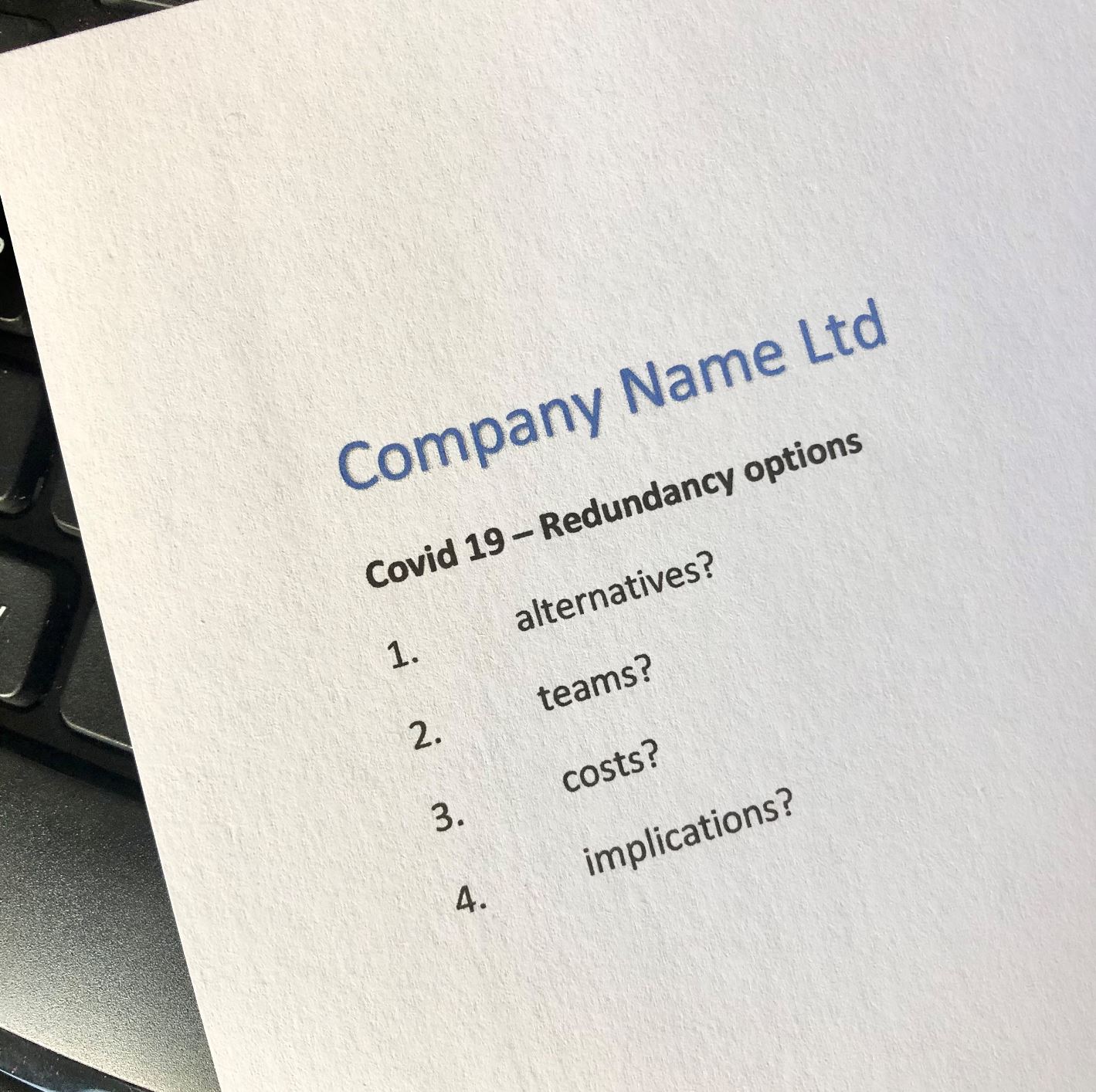 This crazy world has never been more challenging for an employer. You are desperately trying to keep the wheels turning and to stay afloat (to mix my metaphors!).  You are having to make difficult decisions generally to keep your business going and even more so about your people – about furlough, about hours and about whether you need to make redundancies. There is so much employment legislation and process you need to follow, and it can be overwhelming. My aim today is to share some top tips, a 'management guide' to redundancies.
Firstly, some basics to help understand the rest of the advice.
What is a true redundancy? It's when there is
a closure of the organisations business as a whole
a closure of the organisations business at the place where the employee is employed
a diminishing need for the number of employees to do work of a particular kind
less work but the same number of employees
What is collective consultation?
We have lived for nearly 30 years with the Trade Union Labour Relations (Consolidation) Act 1992 (TULRA) requiring that where more than 20 people 'at one establishment' were to lose their jobs the company involved had to consult with the employees as a group, or collective, and with either their recognised trade union or nominated employee representatives. Failure to collectively consult with those affected by the change would allow those affected to receive a compensation payment of up to 12 weeks pay on top of any redundancy award they were entitled to.
So here are my practical steps must you take when considering a redundancy and whether to consult collectively or not?
Here's my checklist:
If more than 100 employees are affected, you must arrange to collectively consult with the recognised trade union or nominated employee representatives for not less than 45 days before the change is due to take effect
If more than 20 but less than 100 employees are affected arrange to collectively consult with the recognised trade union or nominated employee representatives for not less than 30 days before the change is due to take effect
If less than 20 staff are affected consult on an individual basis with the person involved only – remembering they have the right to be accompanied at any meetings with a trade union representative or fellow employee
Don't forget to advise the Government bodies through the submission of an HR1 form when more than 20 people are involved HR1 Form
Consider your 'pool' of staff from which those who are to be made redundant will be selected. Clearly, if the company is closing down its business or a particular place of work, the issue of the "pool" for selection will not normally arise since all the employees in that place will potentially be redundant.
If you have a "pool" for selection, then consider the selection criteria. You should ensure that these are, so far as possible, objective and fairly applied.
Consult to discuss ways to avoid the redundancies, reduce the numbers involved or mitigate the consequences of a redundancy. This could be to seek volunteers at the start or consider job share etc.
If undertaking individual consultation, explain the basis on which they were selected for redundancy, giving them the opportunity to express their views, to raise any questions, and to discuss any alternatives to redundancy.
If you are consulting collectively you should provide the relevant representatives with sufficient information to take a useful and constructive part in the process such as:

reasons for the proposals
the numbers and description of employees proposed to dismiss as redundant
the total number of employees of that description employed at the establishment in question
the proposed method of selecting employees who may be dismissed  with care being taken to ensure the criteria is free from discrimination on grounds of sex, race, age disability, religious belief or sexual orientation
the proposed method of carrying out the dismissals, including the period over which the dismissals are to take effect, and
the proposed method of calculating the amount of any redundancy payments to be made (other than statutory redundancy pay) to employees who may be dismissed.
The information should be either given to the appropriate representatives in person at a consultation meeting, or posted to them and, in the case of trade union representatives, posted to the main or head office of the union.

Think about alternative roles for redeployment and retraining, not forgetting an employee would have the statutory trial period of four weeks to determine if that new role was suitable. If the contract is terminated at the end of the trial period, the employee is treated as having been dismissed on the date on which the original contract came to an end.
WARNING: You should not select an employee for redundancy because they are on furlough or because they are staying at home due to shielding/childcare responsibilities (whether or not they are on furlough). Not only could this be discriminatory, but it is hardly best practice determining the skills you need in the business going forward!
You are required to give notice and pay a statutory redundancy payment where the employee qualifies for one, even if they are on furlough.
And if you have done all of that you should be both pleased that you have it all in hand and relieved that it should be an ultimately fair and legal process.
However there are so many nuances so for further guidance on these issues and more generally on making redundancies during the coronavirus pandemic feel free to contact us www.truehr.org.uk/contact for an initial free discussion.