Information for HR teams and leaders on how to handle sexual harassment in the workplace.
The recent parliamentary harassment scandals have shone a spotlight on what is acceptable culture and behaviour in a workplace. When an employee complains that he or she is experiencing sexual harassment in the workplace, an employer has several legal, ethical and moral obligations to follow, and this must be acted on in a timely and safe manner for all parties involved.
An organisation can't take the time to decide whether they believe an individual or not, they can't pass judgement and must ensure that all employees feel safe during the investigation.  The scope of sexual harassment in the UK is huge.
Research from the Trades Union Congress (TUC) found that 52% of women, and 63% of women aged 18-24, reported experiencing sexual harassment at work. This included the following:
32% had been subjected to unwelcome sexual jokes
28% experienced sexual comments regarding their body or attire
23% had been touched against their consent
20% had experienced unwanted verbal sexual advances
12% had been sexually assaulted
As the report suggests sexual harassment in the workplace is still a serious issue that women and men must deal with and there is a long way to go for it to not happen.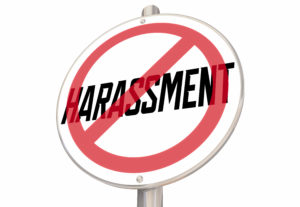 In this blog, we discuss sexual harassment, how to prepare management to deal with those situations and dealing with the matter.
What is sexual harassment?
In simple terms, sexual harassment is unwanted behaviour of a sexual nature. The law (Equality Act 2010) protects all individuals against sexual harassment in the workplace.
To be sexual harassment, the unwanted behaviour must have either:
violated someone's dignity, whether it was intended or not
created an intimidating, hostile, degrading, humiliating or offensive environment for them, whether it was intended or not
Employers and organisations must do all they can to protect people from sexual harassment and take steps to prevent it from happening.
Train and prepare line managers
In the event of sexual harassment taking place, it will likely be a line manager who will first be made aware of the situation, whether that is having an employee tell them or witnessing it. As an organisation, it's crucial to make sure line managers:
Understand the seriousness of sexual harassment and the impact
Know harassment law and what constitutes sexual harassment
Have the people skills to handle sexual harassment situations fairly and sensitively
Know and follow the organisation's sexual harassment complaint procedure
Know when to escalate the matter to HR and if necessary the police
Develop and update policies
As an organisation, it is important to develop and regularly update a sexual harassment policy that promotes fair and equal treatment of all employees. A policy should include:
It should define harassment so that everyone knows what is unacceptable and when they can complain
Make it clear what action your organisation will take on sexual harassment
Send a message that sexual harassment will not be tolerated
Dealing with a sexual harassment complaint
There are several ways that an organisation should deal with a sexual harassment claim:
It must take any complaint incredibly seriously.
Handle the complaint very carefully, make sure you do it fairly and sensitively and follow the right procedures and ask HR for support.
Keep everyone involved with the compliant updated and how the process will be handled
Deal with it as quickly and efficiently as possible.
You should not let your views influence a situation or dismiss a concern. For example:
If you know the person accused of sexual harassment, don't let this influence how you handle the situation
The behaviour you might not find offensive but it might have a very different impact on someone else
You should not doubt a sexual harassment complaint – keep an open minded.
Do not ignore or cover up a sexual harassment complaint.
If an individual wants to report the matter to the police, you should allow them to do so.
Sexual harassment is a difficult and traumatising situation for everyone involved. As an organisation you need to ensure that reporting sexual harassment is as simple as possible, that people feel safe and protected, that privacy is protected and that the incident is dealt with impartially.
For additional support and information on how to handle and deal with sexual harassment in the workplace, seek an independent HR advisor for guidance.