Following the recent announcement that Saga, the travel and insurance firm, is to introduce paid leave for grandparents, it follows suit that a range of companies are now offering policies that support staff during key life periods.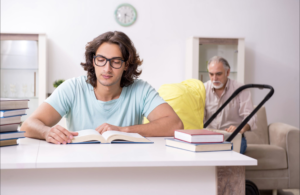 This announcement is leading many to believe that flexible working is no longer a perk but a necessity for businesses in 2022.
The shift to more flexible and hybrid working environments is here to stay. With the adequate policies in place to assist the transition to flexible work, its long-term implementation will boost productivity, foster a better work-life balance, and open hidden pools of talent, that will help address the talent scarcity issue.
In this blog, to help businesses and HR teams understand leave, we have broken down all the essential information that you need to know about grandparent's leave, other types of leave and examples of businesses that are leading the way in introducing new types of leave.
Grandparent's leave
Currently, grandparents have no right under UK employment laws to paid or unpaid leave to spend time with their grandchildren in their capacity as grandparents.
Grandparents may have rights to ordinary parental leave in very limited circumstances. The right to ordinary parental leave is dependent on their employer and their length of employment and it is also dependent on any formal parental responsibility for a child.
If grandparents have parental responsibility, either by adopting a child or by a residence order being made in favour of them, they will be entitled to take ordinary parental leave for the purpose of caring for that child. The period of ordinary parental leave is 18 weeks for each child, which must be exercised before the child's 18th birthday.
However, some organisations, such as Saga, are introducing policies, to provide grandparents' leave.
This move is forward-thinking and recognises that grandparents play an essential role in childcare while also building a work culture that appeals to the over-50s – especially as working and retirement ages are extended, making a more inclusive environment.
Types of leave
While grandparents' leave might currently seem like a novel idea to some organisations, there are still several types of other leave available to employees that HR managers and business leaders must be aware of, including:
Adoption leave – when an employee takes time off to adopt a child or have a child through surrogacy they may be eligible for Statutory Adoption Leave.
Annual leave – almost all workers are entitled to paid holiday each year, known as Statutory Leave Entitlement. It is down to the discretion of the employer whether they include bank holidays as part of statutory annual leave. The amount of time is dependent on the company policy and the employee's contract.
Carer's leave – the Carer's Leave Act 2001 allows employees to provide full-time care for someone and it can last from at least 13 weeks up to a maximum of 104 weeks.
Compassionate leave – employees are entitled to time off for dependants or compassionate leave. A dependant could be a spouse, partner, child, parent, or anyone living in the household. It could also be for someone who relies on the employee for their care or help in an emergency. It is down to the discretion of the employer how much leave is granted.
Jury service – organisations must grant an employee time off if they are called for jury service. This usually will last up to 10 days but can be longer depending on the case they are assigned.
Maternity leave – when an employee takes time off to have a baby they are entitled to Statutory Maternity Leave which is 52 weeks long. They're not required to take the full leave entitlement; however, they must take 2 weeks' minimum leave after the baby is born or 4 weeks if they work in a factory.
Paternity leave – this is when a worker takes time off because their partner is having a baby, adopting a child or via surrogacy. The time taken for this is usually between one and two weeks.
Progressive leave policies
As we head into the new year, we will begin to see an increase in organisations, similar to Saga, thinking outside of the box to offer to leave policies to offer progressive leave packages.
Some of the creative policies that organisations are introducing can include:
Vaccine leave
Menstruation and menopause leave
Pregnancy loss leave
Gender affirmation leave
Sorry Business leave
Marriage leave
Life leave
Pawternity leave
Introducing leave policies that will help your employees have a better work-life balance will lead to better productivity and attract and retain staff.
For additional support and information on introducing a new type of leave into your organisation, seek an independent HR advisor for guidance and support.