The past couple of years have been a tumultuous time for businesses, HR departments and employees globally.
As we head into the New Year, companies and HR teams have faced unique and unpredictable challenges including The Great Resignation, shifting to remote and hybrid working models, new compliance and regulatory issues, increased burnout and mental health issues and figuring out how to attract and retain talent in an ever-changing world.
In this blog, we examine what we believe the biggest HR trends will be for 2022 and discuss what businesses and HR teams need to know throughout the year.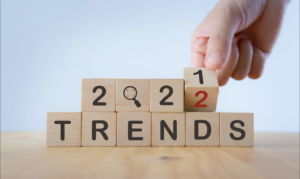 Equality, Diversity and Inclusion (EDI)
At the height of the pandemic, the world watched movements like Black Lives Matter dominate the news agenda following the murder of George Floyd. Many demanded that their employers take a stand and show their support for the movement.
By putting the spotlight on injustices related to policing, people began to understand the lack of representation in leadership, management and even at junior levels, and began to increase calls for change.
While diverse workforces have been on the minds of HR and business leaders for some time, the appetite in a workforce for improved EDI strategies has risen in terms of priority. In 2022, you can expect EDI policies and strategies to remain at the forefront of minds with more and more leaders looking to take action.
New and mutating Covid-19 variants
The Omicron variant has swept the country over the last few weeks, and it altered plans for a return to the office for many employers.
Despite many expecting to return to workplaces, the reality is that most companies will have to keep some level of remote work as an option because of the various Covid-19 variants that could potentially be appearing.
Until the pandemic turns into an endemic, some companies will remain remote only. Others will choose to become hybrid workplaces.
Not only this, but many firms will also have adapted their flexible working strategies due to the number of high absence rates due to the pandemic and be looking to implement long-term hybrid policies as an employee benefit.
Coming up with sufficient strategies on how to collaborate, and efficiently continue to operate will need to be at the forefront of business and HR leaders' minds.
Take a holistic approach to the pandemic, make sure the strategy matches the organisation's values, and consider the risks associated with whatever decisions you make. Be sure to keep up to date with Government guidance to ensure you are staying compliant.
Wellbeing and Covid-19 fatigue
Employee wellbeing must be a priority for employers. Business and HR leaders will need to take a proactive approach to support and advocate for employee wellbeing and dealing with Covid-19 fatigue in 2022.
The stigma around wellbeing is changing and employees are becoming more comfortable talking about it and expressing what they need to improve.
Business leaders and HR teams need to understand that it is different for each individual and they have to have processes in place to support everyone.
Ways that wellbeing can become an organisation's priority;
Conducting regular wellbeing check-ins
Upgrading employee benefits to include mental health and wellbeing
Offering wellness days, meditation and yoga programmes
Giving workers more flexible working options (4-day work weeks, remote working options, etc.)
Training managers on how to respond to and address mental health concerns, and create a safe space for employees
Recruiting and retaining after 'The Great Resignation'
For HR and business leaders, The Great Resignation presented and a number of struggles to fill the gap that has been left with individuals leaving, however, it is also an opportunity to attract and retain new talent to the organisation.
Understanding the reasons behind employees leaving is necessary to prevent the cycle from repeating itself with future team members.
Listening to candidates is essential if organisations want to develop the right value proposition to attract and retain staff. The coming year is about more than just perks; it's about what appeals to the human aspect, fostering growth and belonging to the business.
For additional support and information on the key HR trends for 2022, seek an independent HR advisor for guidance and support.