Help your employees beat the January blues
Christmas is around the corner, 2022 is on the horizon and covid is putting doubt on what the new year may bring. So, it would come as no surprise to see employees return to work after the new year a little flat in terms of motivation as they tackle the dreaded 'January blues.'
'January blues' and in particular 'Blue Monday' – the third Monday in January – is when our mood is at its lowest in the year. It's crucial as an employer to ensure that you are considering the mental health of your workforce during this period.
In this blog, to help you keep morale and productivity high in the new year, we are sharing our top tips to beat the January blues in the workplace.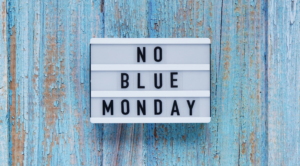 Celebrate 2021 successes
Dedicate time in the new year with your team to celebrate the successes of the previous year. This is good for team bonding, morale, and a brilliant way to assess progress and recalibrate goals for the year ahead.
It provides you with the opportunity to acknowledge employees for work they have done well, which will make them feel valued and encourage them to continue doing what they do effectively. Recognition of great work can go a long way and is proven to have an overwhelmingly positive effect on employee engagement and productivity levels. This will brighten up January and set people up for a good year ahead.
Set targets for 2022
It's important in the new year to set targets for 2022. Working towards a shared goal as a company will help keep staff motivated and feel more involved and aligned with the business.
This will encourage a feeling of inclusivity and togetherness, like they are part of something bigger and thus work harder to achieve common goals. Make sure you set up key milestones throughout the year to check-in and celebrate when these are achieved, it is another way to keep staff motivated and focused. This can be done informally as part of your regular 1-2-1 meetings are as part of the annual performance review process. It's a chance to assess the past 12 months and plan for the next. It is also a chance to reflect and refocus.
Refocus on health and wellbeing
After the festive season, your workforce may have overindulged. The best way to keep everyone happy and focused is to prioritise the health and wellbeing benefits for team members who may be looking to have a healthier January.
Take the new year as an opportunity to communicate all the wellbeing benefits you offer as a company, whether that is access to mental health support, free gym passes or even just fruit in break areas.
Remember, a healthy worker is a happy worker and investing in this can help boost your overall business productivity.
Lead the way
As a business leader and HR team, it is important to remember that whatever you do at the workplace will trickle down and impact how your employees behave as well.
If you are looking after yourself then your workforce will recognise this, and it can have a positive impact. Keep your staff motivated throughout January by engaging with them regularly, having regular meetings throughout the month to highlight the achievements of employees.
Keeping your personal morale high can be infectious, which can lead to your enthusiasm to achieve company targets feeding through to the rest of the team.
Keep communicating
While it is a priority to boost morale in January to try and avoid the 'January blues', sometimes, despite all your best efforts, some team members will still find this time a struggle. Keeping communication channels open is very important for the morale and cohesiveness of an organisation.
Employees need to know how to contact you and feel safe in reaching out if they aren't in a good place. Maintaining open communications with your workforce, specifically making them aware of what wellbeing and health packages are available to them, will make a huge difference during a notoriously challenging time of the year.
For additional support and information on how to beat the 'January blues', seek an independent HR advisor for guidance.