The summer holidays are but a distant memory, the kids are back at school and with the month of September closing comes a new season – and a new mindset. 
The concept of a Autumn term reset is nothing new – but it's something that HR leaders can offer support and guidance on.  
After the disruptions of the past 18 months, this year more than ever we may be in a 'back to school' mindset, looking to press the reset button on our working lives. 
Spending so much time in survival mode has left many of us feeling physically and emotionally drained, so it may be wise not to be too ambitious with your own and your workforce's reset goals. Change a little, not a lot, and if you can, incorporate an element of wellbeing into your plans too, even if it's only taking a break and getting some fresh air on a lunchtime.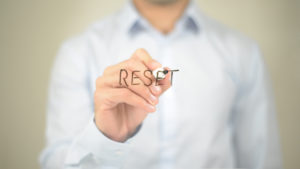 Take it slowly 
If you're thinking of pressing reboot on your own career, take a look at where you are and what you hope to achieve before you start setting any ambitious goals.  
Having realistic, achievable ambitions may not seem particularly grand or impressive but it will give you a better chance of actually meeting your targets. Whether you're looking to improve your organisational skills or are learning a new language, take things slowly and don't worry if things happen overnight.  
Think about why you want to change something – is it necessary to move deadlines or set targets? Or is it about feeling more in control of your situation after a year and a half of upheaval? 
There's little point in choosing to put pressure on ourselves and chasing achievements if we're doing it for the wrong reasons.  
Similarly, if employees feel it's the right time to look take on extra responsibility or a more senior role – and they're happy with any added pressure or increase to their workload – they should be supported as necessary, whether through mentoring or training.  
Ambitious individuals want to work for an employer that makes them feel valued and is happy to help them build their skills – not who will hold them back. The investment in this is more worthwhile than the cost to replace. Should they leave as a result of perceived lack of support.  
Support career goals 
While many businesses are gradually moving back to the office, or to a hybrid way of working that involves remote work, it's important not to overlook people's aspirations during a time of flux. It's still perfectly acceptable to have a one-to-one session online where managers can stay in touch with their team's ambitions and expectations. 
Helping individuals to identify milestones for achievement, and supporting them in their journey towards them, will enable them to be more engaged and to see their future within the organisation. 
Training courses and workshops may not be fully back in the classroom as yet but there are still plenty of free or affordable virtual learning opportunities out there.  But make sure they seek these out themselves rather than you take on that additional task yourself; this ensure ownership and commitment. 
Establishing an in-house mentoring programme is a cost-effective way to not only onboard new employees virtually but can be a transfer of knowledge between team members. Remember that it's not just about senior staff members passing on their insights and guidance to their less experienced colleagues; they too can benefit from the fresh perspectives and technological know-how of younger employees. 
A balanced approach 
The pandemic has had a significant effect on our work/life balance. Some have been able to spend more time at home with their family as lengthy commutes to and from the workplace were eradicated; others felt that they were 'always on' and that the line between home and work has become blurred. 
It's no longer enough just to encourage people to work harder to achieve their goals. Instead, HR departments should urge people to work smarter and be more efficient, leaving time and energy for their personal interests as well.  
Part of a company's own Autumn Term reset could be taking a more proactive approach to wellbeing and stress prevention. Where it's possible, introducing flexible working policies can boost team morale and offer people the chance to achieve a better balance between the demands of their career and their home life. 
Time to reset 
Some businesses are setting aside specific reset days, or wellbeing days where employees can take time out to relax and focus on their plans and long-term goals. Just getting out of the office environment to think 'what next' can be incredibly beneficial, with employees returning refreshed and rejuvenated after a day away from the 9-5 treadmill. 
For others, this could mean simply taking an hour on a Friday to talk through the highs and lows of the week.  
Your employees may already be taking their own reset days where they take time out from their usual routine to plan their personal goals; however, making it a company-wide initiative will help boost your feelgood factor.  
Supporting employees in both their ambitions and their wellbeing is vital – but if you need advice on how you can go about this, enlist an independent HR advisor for guidance.