The Government's furlough scheme was first introduced in March 2020 and provided thousands of businesses with a lifeline to survive the pandemic. At its peak, almost 12 million UK workers were supported by the scheme and it is estimated, once complete, it will have cost in the region of £100 billion.
As we approach the end of the scheme, which currenlty officially finishes at the end of September 2021, businesses owners, decision-makers and HR departments need to considder how they will bring back team members who have been on furlough for the past 18 months.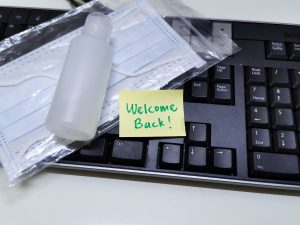 When the pandemic first hit the UK, businesses were agile and adaptive in their response and it crucial that as much thought, consideration and care is put into plans for returning furloughed employees to the working world.
While some businesses will be looking to bring the vast majority of employees back at the same time, others will be considering whether switching to a flexible furlough arrangement, where staff can return part-time initially, is more appropriate.
The pandemic impacted us all in different ways. Some individuals found the period challenging and struggled to be at home for such a long time.
We wanted to share our thoughts and expert opinions on the best ways that businesses can support workers returning from furlough.
What can businesses/HR departments do to support furloughed staff:
Throughout the pandemic, communication has been key for businesses. It was a chance to regularly check in with employees, support them during the pandemic and keep them abreast of how the business is performing.
Communication is also going to be vital in the return of furloughed employees. Businesses will need to keep team members informed of their plans – such as how they will return to work safely, whether their working day has altered, how has the business has adapted, if any contracts have changed…  The list of what needs to be communicated is a long one and it is important that businesses leaders nail this.
Companies that have kept employees regularly updated will find it easier to provide a smooth return to the workplace. It is important to remember that communication is a two-way street – not only should a business be communicating with the team, leaders should also be asking for feedback from staff to consider any improvements that need to happen.
Planning the return – changes, training and reintroduction
How your employees return to work is going to be an important aspect. How is your working environment going to be 'Covid-secure'?
This will need to be considered, planned and implemented to ensure that employees feel safe when returning to work after a long period. Decision-makers will need to ensure that all health and safety measures and risk assessments are completed before the return to work.
It is also important to consider how employees' roles may have changed as a result of the pandemic and what training or reintroduction training is needed to get everyone up to speed.
Mental health and wellbeing
The pandemic has affected people in many different ways. While some have struggled with the physical effects of the virus, mental health and wellbeing issues have hit others hard, whether that be related to increased stress or a fear of the unknown.
It is important that businesses plan and prepare for this and are in a position to offer support with a range of mental wellbeing concerns.
Returning from furlough, for some, will be similar to returning from long term sick or unemployment. Bosses need to be considerate about how they approach employees and ensure that company policies, like occupational health and support, are reviewed and updated so that everyone feels safe, secure and supported.
Expert help
The positive impact of the furlough scheme cannot be denied. It has given businesses the breathing space they needed to get through the pandemic and has ensured that people are still paid a portion of their wage while they are unable to work.
As businesses and workers begin to face a 'new normal' working world, it is crucial that this positivite effect continues and that people can return to work as safely and as seamlessly as possible.
If you require any additional information on how your business can support employees as they return from furlough, consult an independent HR expert.