Planning a workplace Christmas Party
Tis the season to be planning—with tables or venues to book, November is the time to secure that slot for your Christmas party! Celebrations and recognition are a vital component of positive company culture, so Christmas becomes a great opportunity to bring everyone together and do just that.
But before you finalise  your plans, you should take into account the people you're inviting—your employees. There are several things to consider when it comes to celebrating Christmas in a way that is inclusive to everyone you work with, and flexible for all your employees.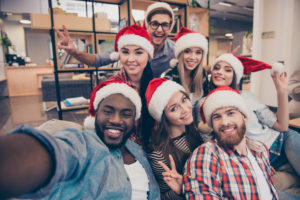 It's the most wonderful time of the year—for some of us
There are several reasons your employees may not be so jazzed about celebrating Christmas.
Religious difference is the most obvious—those with different beliefs may not be interested in celebrating a Christian holiday, and those who aren't religious may not feel any desire to celebrate either.
Then there are individuals who may be struggling financially at Christmas time, especially during this year's hard winter among the cost-of-living crisis. These people may feel pressured to join in on the Secret Santa or the Christmas drinks, but may not actually wish to do so, inevitably creating a negative feeling towards the celebrations.
Finally, you should also consider those who have had a recent loss of family, or employees who are living far from home, as festive times can be emotionally difficult for those missing family or homeland traditions at this time of year.
Planning an inclusive Christmas
One great way to get a sense of the workplace attitude towards Christmas would be to take an employee survey, or opening up the topic for discussion within the workplace.
One vital thing to remember is never to assume how someone may feel about celebrating Christmas, as people of all sorts of religions or cultural backgrounds may still be excited about celebrating the festive season and feel that 'watering down' Christmas doesn't help anyone.
Others may feel strongly about not being forced to celebrate a religious holiday they don't associate with—communication is key here to getting the best result.
Remember that aside from personal or religious reasons for not celebrating Christmas, there may also be employees who don't drink, have dietary restrictions, have disabilities stopping them from doing physical activities or have anxiety around being in big crowds, especially post-COVID.
Making your Christmas party flexible
So you have a diverse workforce, but still want to celebrate Christmas. How can you navigate this?
One method is to have two different events towards the end of the year—you could organise a Christmas meal around the end of December, as well as an activity at the start of the New Year that is unrelated to Christmas. Your employees can choose one or both (or neither!) of the events to attend, and won't feel pressured into joining a Christmas meal if they don't wish to. Employees are also more likely to be available during January, and it's a lively way to kick off the new year so the 365 days ahead don't seem so daunting.
If you're a smaller company that doesn't have the budget for two events, try picking something that celebrates the end of the year but isn't so overtly festive. Why not try organising an employee awards ceremony, or a murder mystery party right in the office? It could double up as a fun team-building activity, and you could go all the way by encouraging dressing up. If you're wanting to leave the office, consider something out of the box like paintballing, escape rooms or ice skating as a fun team event.
Having a forward-thinking and conscientious plan for Christmas, considering the needs of your employees, is the best way to set a strong precedent for positive company culture. It will motivate and recognise your employees without alienating or excluding anyone at the end of the year.
If you're interested in further advice about organising a Christmas celebration to suit your workplace, get in contact with us to see how we can help.