AS THE end of 2019 draws ever closer, I am going to assume your holiday year is January-December. If it's the beginning of April, or otherwise, apologies, bear with me and save this article for nearer the time!
As some of you may need to encourage staff to utilise any untaken annual leave before it's too late I wanted to remind you of the top 10 most important things that you should know before allowing your employees to book a holiday from an HR perspective.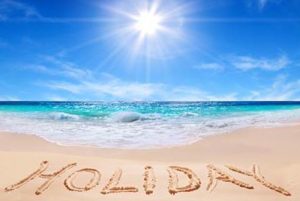 1.      The minimum number of days holiday a full time employee is entitled to is 28 days if they work a 5 day week. That is where the magic 5.6 weeks equates back to as mentioned in the law – they assume 5 working days x 5.6 weeks = 28 days, and yes that can include the normal eight bank holidays. Don't be fooled though; I had an old employer I worked with who, when I arrived, their contract stated the employee was entitled to take '5.6 of your normal working weeks per annum starting from January each year' – the employee in question worked 6 days a week, so this clause was quickly amended. Staff working 6 days a week are only entitled to 28 days' paid holiday and not 33.6 days (5.6 multiplied by 6) – you have been warned. It is important to remind all staff that utilising annual leave entitlement has been proven to be a great way to combat workplace stress,
2.      Part time employees are entitled to those 28 days on a pro-rata basis, according to the number of days that they work each week. You can pop in their contract that if a bank holiday falls on a day they would normally work (assuming its included in the 28 days) they must deduct that day from their prorate entitlement.
3.      But shift workers or those on irregular hours the calculation is somewhat more complicated, but the UK Government website has a great little calculator to help – here's its link Calculate holiday entitlement – GOV.UK
4.      You can offer more generous holiday entitlements in your contract of employment, just remember to be explicit in their nature.
5.      You can refuse a holiday request, so long as you allow the employee to take that time at a later date in the holiday year. There is nothing more frustrating that your member of staff going to the travel agent on Saturday and coming in that Monday after asking for the holiday without checking your staffing levels can cope with their absence. This makes it extraordinarily hard to make that refusal though so I would suggest you ask employees to appropriate notice of any holiday request in the contract and state that failure to do so may lead to a refusal for the time off.
6.      An employee who becomes sick during a period in which they had planned to be on holiday may be entitled to ask for this holiday to be taken at another time. Likewise if they are sick while on holiday European case law suggests that they are entitled to carry this over to the next holiday year if they are unable to plan it within the current holiday year. This is still not entirely clear in the UK so tread carefully Employees on long term sick leave in the UK are entitled to take and be paid for accrued annual leave during their time on sick leave. Why? Well look at 7, below
7.      If your employee is absent from work on long term sick leave their right to holidays will still accrue, as they do during any periods of maternity leave.
8.      There is no obligation, unless the contract of employment says so, for you to allow them to carry it over into the next holiday year. Decide whether you will allow holiday to be carried over from one year to the next and if so how many days. Remember that you don't have to allow staff to carry over their annual leave unless sickness or maternity impaired their ability to use it during the leave year. Alternatively, you could take a 'use it or lose it' approach to holidays. Either way, it is important to outline your stance in a relevant holiday policy.
9.      And yes if business needs require it you can stipulate that your employees take some of their holidays at a particular time – here's an example clause I have seen
'Due to the needs of the organisation and to ensure business continuity holidays must be in taken in the following way – one week should be taken between January and March, two weeks should be taken between April and September, and one week should be taken between October and December. Your final week can be taken at any time during the year and can be split into single days if necessary'
10.     And finally don't forget that if your employee leaves part way through the holiday year they are entitled to payment in lieu of any accrued and unused holidays during the relevant holiday year. Failure to pay it may lead you down the path of a breach of contract claim. The calculator link above is great to use to calculate this.
Convincing staff to take leave can be difficult at times, especially if they feel under pressure due to excessive work commitments. A letter reminding employees to book and take their holiday entitlement should prove useful. This notice may create a rush to take holidays before the end of the year, however individuals should still be expected to submit requests in the usual way, such as using a holiday request form.
If all else fails you could arrange mandatory holiday for staff before the year is out, making sure to send them a letter that provides them notice of this compulsory leave.
So, I hope I've helped dispel some myths, clarify some queries and helped you on the right holiday path at the year draws to a close.
If you would like some more holiday advice (I'm even happy to help decide where you should go on your break!) contact us here or follow us @TruehrLtd #HappyHolidays