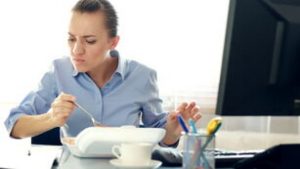 IN A recent article in the HR Review Magazine it shared that 7 in 10 UK employees (70%) say that they take less than an hour for lunch with the average lunch break being just 31 minutes according to a new survey by Glassdoor.
The online survey polled 2,000 employed adults across the UK. As well as asking people how long they take for lunch, it also posed the question of what people do with their lunch break, and what they would prefer instead of a lunch break, with many people saying they are looking for more flexibility in working hours.
This again got me thinking about reinforcing the need and benefits of a break and somewhere to have it during the day.  Back in 2008, we were being quoted figures of 1 in 6 people not taking a lunch break and we threw our arms up in horror at this. How could it be? Why would you not take your breaks due? But as the economy decreased and the pressures increased in our working days this has, in a BUPA survey, been confirmed now as 1 in 3 not taking the break at all – a trend driven by falling profits and rising expectations on our working day.  Even a BBC report reaffirmed what we already suspected; that 54% of 600 office workers regularly worked through their lunch breaks, 53% believed the culture of not taking lunch breaks to be widespread in their workplace and 20% felt under pressure from managers not to take a break. It makes depressing reading.
Back in the day when I worked in the 'corporate world' I too felt that angst – the desire to take a break, to see daylight and breathe fresh air, only to know I had a report to write, a restructuring document to prepare or a consultation meeting to attend. 'Oh well' I would sigh, 'tomorrow is another day' to quote Rhett Butler in 'Gone With the Wind'. Only tomorrow was the same as today, and would be the same as the day after. Days turned to weeks and weeks to months and yet I still would not manage to escape at lunchtime. It was my loss.
Now I work for myself, it's this small thing I cherish most. I try to take that half hour minimum of me time. Why? Well let me explain…